James F. Haggerty
In The Court of Public Opinion: Winning Your Case With Public Relations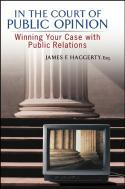 Книгу можно купить в интернет-магазинах:
ISBN: 0471307424, 9780471307426
Издательство: Wiley
Год издания: 2003
Страниц: 258
Формат: Твердый переплет
Book DescriptionA practical guide to winning the public relations war in business In the Court of Public Opinion is a lively and practical guide for anyone involved in high-stakes litigation. Given the increasingly litigious, media-saturated business environment, companies and high-profile individuals need protection-not just in the courthouses, but in the court of public opinion. Using examples from many of the most famous cases in the past several years, In the Court of Public Opinion contains real-life strategies that CEOs, lawyers, and other executives can use when they find themselves in a high-profile lawsuit. James F. Haggerty, one of the nation's leading attorney/PR pros, offers advice on public relations strategies that will help businesses and individuals save their reputations as well as their livelihood. James F. Haggerty (New York, NY) is an attorney and CEO of the PR Consulting Group in New York. He has been working with legal and litigation issues for more...
Посмотрите другие книги этой тематики: