Marketing to the Campus Crowd : Everything You Need to Know to Capture the $200 Billion College Market
David A. Morrison
ISBN:

0793186005

;
Издательство:

Dearborn Trade, a Kaplan Professional Company



Marketers spend well over $185 million in campus-specific advertising and promotions alone. The college market is one of the most lucrative groups targeted by marketers and advertisers today-and for good reason. Considered the heart and soul of the youth market, it encompasses college-bound high school graduates, current college students, recent college grads, parents of college students, alumni, college faculty, administrators, and institutional buyers. Currently enrolled college students alone represent 15.6 million voracious consumers who spend an estimated $200 billion annually. Whether you're an experienced college marketer or new to the field, Marketing to the Campus Crowd is required reading for any company eager to boost its bottom line and establish long-term brand loyalty. Industry expert and consultant David A. Morrison discusses the three most common mistakes, over 22 different traditional and emerging marketing channels, "Best in Class" case studies,...
Похожие книги:
Book Description Grant Morrison's The Invisibles was th…
от 2510
A new and talented storyteller, John Morrison, weaves a…
от 2645
`As they often do, Jamie Morrison and Alexander Sarris …
от 16784
Alan D. Morrison, William J. Wilhelm
Investment Banking: Institutions, Politics, and Law pro…
от 2550
"Roadrunner or Roadkill" outlines the key pitfalls that…
от 1905
Purchase includes free access to book updates online an…
от 1546
"Such is the mystique, the iconoclastic reverence, the …
от 2304
Frederic P. Miller, Agnes F. Vandome, John McBrewster
High Quality Content by WIKIPEDIA articles Ann Morrison…
от 1385
A Totally Unofficial Guide to the Hit TV Series GleeGET…
от 1758
'Gripped me like a thriller for the past two days' Rich…
от 1495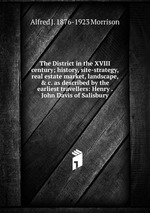 Воспроизведено в оригинальной авторской орфографии.
от 458