Andrew F. Ward
Connecting to the Internet: A Practical Guide About LAN-Internet Connectivity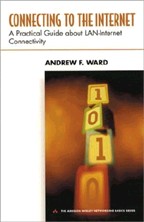 Книгу можно купить в интернет-магазинах:
ISBN: 0201379562
Издательство: Pearson Education
Год издания: 1999
Страниц: 291
For network administrators, one of the most intriguing--albeit challenging--moves is the connection of their local area network to the Internet. Connecting to the Internet: A Practical Guide to LAN-Internet Connectivity specifically addresses thisimportant evolutionary move with very concrete suggestions and background material. This brief book opens with a detailed look at the protocols involved in TCP/IP networking. The section includes information on IP, UDP, NNTP, FTP, and DNS--all key elements of Internet-based networks, but often not present in legacy LANs. Next, author Andrew Ward discusses how to select an Internet Service provider--a chapter that discusses service levels, bandwidth availability, and pricing. The book continues withchapters on building a Wide Area Network infrastructure and security. The latter chapter covers important topics such as firewalls, encryption, and Virtual Private Networks (VPNs). After presenting this background material, the author...
Посмотрите другие книги этой тематики: