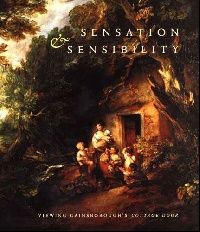 Sensation and Sensibility : Viewing Gainsborough's "Cottage Door"
Ann Bermingham
ISBN:

0300110022

;

9780300110029

;
Издательство:

Yale University Press


Страниц:

208



Book Description Late in his career Thomas Gainsborough became preoccupied with the theme of the cottage door, and he created a group of paintings and drawings that show rustic figures clustered around the open door of a cottage set in a deeply wooded landscape. Often seen as exemplars of the rural idyll, these works were among the first landscape paintings to reflect the eighteenth-century aesthetic of sensibility. As a way of seeing, sensibility valued nature for its innocence and simplicity, and images, such as Gainsborough's cottage subjects, for their power to move the viewer. This lovely book brings together the cottage door paintings and essays that discuss Gainsborough's departure from the more naturalistic style of his earliercareer and that place his new concern with sentimentalism and artificiality in the context of sensibility and the growing interest in expressive, even sensational, visual spectacles. To this end, contributors to the volume investigate...