Pinto Sandra
A History of Italian Art in 20th Century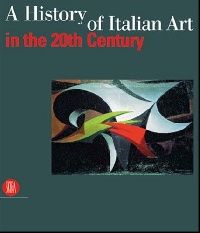 Книгу можно купить в интернет-магазинах:
ISBN: 8884912598, 9788884912596
Издательство: Skira
Год издания: 2003
Страниц: 360
Book Description The volume traces a panorama, one never before observed, of the last century of Italian art within a "global" framework, choosing, that is, the most distanced and wide-ranging perspective in order to be the most all-inclusive outsideItaly and outside Europe. Furthermore, the historical line followed is also one of the first for Italian art to take account of the postmodern revolution and to follow every step of the alternating supremacies of modernity and antimodernity in theartistic research from 1900 to 2000. It is therefore shown that Italian art sometimes presents itself as homogeneous with international avant-garde and neo-avant-garde movements, sometimes as dishomogeneous, recovering a specificity drawn from itsown prestigious cultural past, with foundations distinct from its historical present.