James Coleman (October Files)
ISBN:

0262025418

;

9780262025416

;
Издательство:

The MIT Press


Страниц:

256



Book DescriptionJames Coleman has emerged in recent years as one of the most important artists of visual postmodernism. His work has transformed critical debates about the status of the image in contemporary culture and influenced an entire generation ofyounger artists in ways that have not yet been fully acknowledged. Until recently, Coleman has enjoyed relatively little critical attention--in part because of his refusal to comment on his projects or to allow his work to be reconstructed outside of thecontext of its exhibition. The illustrated essays in this book span the entirety of Coleman's career to date, from his early postminimal and conceptual experiments with memory and perception, through his work in film, video, and narrative inthe 1980s, to his current ongoing series of slide projections with voice-over that he calls simply "projected images." Reflecting the interdisciplinary nature of the debates induced by Coleman's work, the essays discuss issues of...
Похожие книги:
The boundary between economics and sociology is present…
от 4584
White County, Georgia, Georgia (U. S. state), County se
от 1448
Throughout the heady years of New York's 1960s and 70s …
от 8913
Whether it consists of quick sketches on a lunch counte…
от 2414
Art has never been as culturally and economically promi…
от 3417
s 2009 NFL officiating crew consists of umpire Scott Da
от 1239
Воспроизведено в оригинальной авторской орфографии.
от 453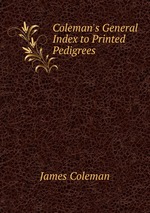 Воспроизведено в оригинальной авторской орфографии.
от 556