Decorative Ironwork Designs CD-ROM and Book (Electronic Clip Art)
ISBN:

0486995828

;

9780486995823

;
Издательство:

Dover Publications, Inc.


Страниц:

48



Multitude of designs selected from rare 19th- and early-20th-century periodicals depict motifs for gates, railings, finials, window grilles, signs, bedsteads, marquees, knockers, tables, and other ironwork elements. The 257 royalty-free illustrations, many displaying Art Nouveau influences, range from relatively simple, unadorned geometric and floral designs to extraordinarily ornate and intricate patterns. The distinctive antique designs will add flair to a wide array of art and craft projects.
Похожие книги:
The streets of Budapest, Hungary, and Vienna, Austria, …
от 3094
Elaborate designs for gates, fences, finials, banisters
от 804
Over 300 outstanding illustrations - thoughtfully selec
от 547
Robertson G.E., Robertson, J.
In the nineteenth century there was an amazing flowerin…
от 2508
One of the world's greatest collections of architectura…
от 2590
Treasure is brought back to life in this fantastic volu…
от 3094
This magnificently illustrated volume showcases elegant…
от 757
Who can resist the magic of beautiful wrought ironwork?…
от 2224
Finely detailed illustrations, selected from rare turn-…
от 1397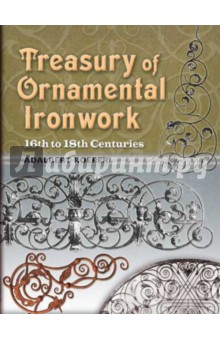 Sixty vintage black-and-white plates illustrate the his…
от 448
This rare volume illustrates the history of European de…
от 1746
A premier metalsmith in the early 20th century in Franc…
от 4459