James Rudnick
Gotham Restored : The Preservation of Monumental New York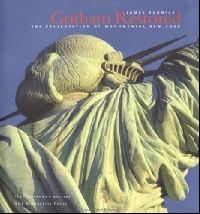 Книгу можно купить в интернет-магазинах:
Серия:
Art Architecture
ISBN: 1580930859, 978-1-58093-085-7
Издательство: The Monacelli Press
Год издания: 1905
Страниц: 176
Book DescriptionJames Rudnick moved to Brooklyn, New York, in 1977 to attend graduate school and almost immediately began to photograph two nearby landmarks: the Statue of Liberty and the Brooklyn Bridge. Both structures were approaching their centennials, and Rudnick was soon drawn into the resulting restorations as a documentary photographer. He followed this work, in the 1980s and 1990s, with similar projects at the New York Public Library and Grand Central Terminal. These four monuments are emblems of America?s transformation at the end of the nineteenth century and, more particularly, of New York City. Rudnick?s photographs ? both color and black-and-white ? are a unique exploration of the great architecture of New York, from"before" shots showing sadly ignored structures to fascinating in-progress images of craftspeople and techniques to spectacular views of the gleaming, post-restoration monuments. Accompanying the photographs in this beautifully...
Посмотрите другие книги этой тематики: