The Memoirs of Baron De Marbot
Baron De Marbot
ISBN:

1417908556

;
Издательство:

Kessinger Publishing


Страниц:

708



Book Description1894. The Memoirs of Baron de Marbot is considered to be one of the best written and most informative of all the memoirs to come out of the Napoleonic period. The book is an autobiographic account of Marbot's life, which begins from his birth in 1782 to this death in 1854. Marbot was a Lieutenant-General in the French Army and aide de camp to several of Napoleon's Marshals. He went on more than one mission for the Emperor himself. He fought in nearly every campaign, from 1800 through Waterloo, and was present at many of the big battles of the era, usually in a position to give insights into core level decisions. This is definitely a must read for anyone interested in Napoleonic history.
Похожие книги:
Воспроизведено в оригинальной авторской орфографии.
от 641
Воспроизведено в оригинальной авторской орфографии.
от 701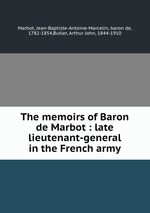 Marbot, Jean-Baptiste-Antoine-Marcelin, baron de, 1782-1854,Butler, Arthur John, 1844-1910
Воспроизведено в оригинальной авторской орфографии изда
от 741