One Doctor's Story : From the Hills of West Virginia to Washington, D.C.
John F. J. Clark Jr. MD
ISBN:

0595329292

;
Издательство:

iUniverse, Inc.


Страниц:

90



Book DescriptionDuring a time when America's families are experiencing a revived interest in the histories of their own and other families, One Doctor's Story chronicles the making of John F. J. Clark, Jr. In his own words, Dr. Clark traces his life from his childhood in Charleston, West Virginia, to his successful medical career in Washington, D.C. There was a huge difference in the environments of Charleston and Washington, D.C., but what the two cities had in common--complete racial segregation--meant that Black people in both cities experienced rampant racism. Through the foundation laid down by his parents and the support of his siblings, One Doctor's Story is about overcoming obstacles and exceeding expectations. Educated in the segregated school system of the south, he graduated from Ohio State University and received his medical degree from Howard University. Despite suffering from dyslexia and institutional segregation, his work to eradicate the...
Похожие книги:
When awardwinning gospel music songwriter Dave Clark aw…
от 1779
When a woman settles into a strict conservative town as…
от 2229
Clarke James Carlisle (born 14 October 1979) is an Engl…
от 870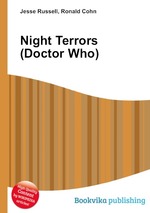 Jesse Russell,Ronald Cohn
"Night Terrors" is the ninth episode of the sixth serie
от 997
William Clark Russell (1844-1911) was a popular writer …
от 900
William Clark Russell (1844-1911) was a popular writer …
от 937
It is one of the grandest adventures in American histor…
от 1862