The Story of My Misfortunes
Peter Abelard
ISBN:

0486444015

;
Издательство:

Dover Publications


Страниц:

128



Book Description An enthusiastic and daring thinker relates a spellbinding story of his philosophical and spiritual enlightenment—and the tale of his tragic personal life as well. Peter Abelard paints an absorbing portrait of monastic and scholastic life in twelfth-century Paris and recounts one of history's most famous love stories, his doomed romance with Heloise. Considered the founder of the University of Paris, Abelard was instrumental in promoting the use of dialectical method in Western education. His scholarly reputation is often overshadowed by his renown as a lover, and The Story of My Misfortunes offers the rare opportunity to observe a legendary romance from the point of view of one of its participants.
Похожие книги:
The illicit relationship between Peter Abelard, a medie…
от 282
A modern retelling of the famous story of Heloise and A…
от 1843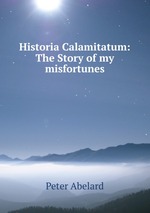 Воспроизведено в оригинальной авторской орфографии.
от 502