Berger Molly
The Journal of Decorative and Propaganda Arts 25 : The American Hotel (Journal of Decorative & Propaganda Arts)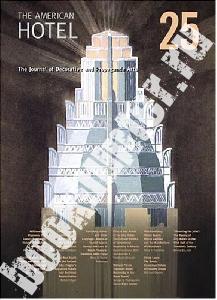 Книгу можно купить в интернет-магазинах:
Серия:
Art Architecture
ISBN: 1930776179, 9781930776173
Издательство: The MIT Press
Год издания: 2005
Страниц: 300
Формат: Мягкая обложка
Book DescriptionThis latest volume of the groundbreaking Journal of Decorative and Propaganda Arts explores the material, social, and cultural world of the large American hotel. Ten richly illustrated essays look at the architects, designers, and social forces that created this distinctive and complex urban institution, from Gilded Age New York to 1950s Miami Beach. Broadly imagined and yet cohesively focused, the essays examine such major historical processes as consumption and modernism, and race, class, and gender. Topics include the lavish New York apartment hotels of Schultze and Weaver (the architects of the Waldorf-Astoria); the connection between hotels and mansions in the "rich man's city" of Gilded Age New York; the "bodacious" interior designs of Dorothy Draper; the flamboyant Miami Beach fantasies of Morris Lapidus; Henry Flagler's St. Augustine resorts; Atlantic City's old Traymore hotel; the social world of hotel chambermaids and clerks; the parallel...
Посмотрите другие книги этой тематики: