Peter Hyatt
Great Glass Buildings: 50 Modern Classics (Designing With Glass)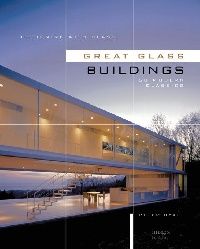 Книгу можно купить в интернет-магазинах:
ISBN: 1864701129, 9781864701128
Издательство: Images Publishing Group
Год издания: 2004
Страниц: 240
Photographer and writer Peter Hyatt with his partner, Jenny, were asked by Images to search the world for exciting contemporary structures built with glass. The result is a stunning collection of over thirty-five international glass design projects, documented in this new publication. Many of the great names in architecture are featured here, including the work of Sir Norman Foster, Renzo Piano, Tadao Ando and Dominique Perrault. Each project demonstrates the architects extraordinary skill in designing with glass and their ingenuity for often complex detailing. Projects range from residential to public and commercial, with award-winners such as Scogin Elam and Brays Nomentana Residence, Maine, USA and impressive architectural innovations including Santiago Calatravas City of Arts and Sciences, Valencia, Spain. This volume aims to provide a unique focus on the latest and greatest buildings designed with glass.
Посмотрите другие книги этой тематики: