Back to Methuselah a Metabiological Pentateuch
Bernard Shaw
ISBN:

1417906030

;
Издательство:

Kessinger Publishing


Страниц:

360



Book Description1924. Most of Shaw's early plays were either banned by the censor or refused production. With Plays: Pleasant and Unpleasant he sought a reading audience. He also began the practice of writing the challenging, mocking, eloquent prefaces to his plays, which were sometimes longer than the play itself. He won the Nobel prize in 1925. Back to Methuselah is one of his later and well-regarded works. See other titles by this author available from Kessinger Publishing.
Похожие книги:
George Bernard Shaw was born in Dublin in 1856. Before …
от 1694
Воспроизведено в оригинальной авторской орфографии изда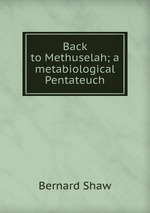 Воспроизведено в оригинальной авторской орфографии.
от 731
Воспроизведено в оригинальной авторской орфографии.
от 730
George Bernard Shaw (1856-1950) is revered as one of th…
от 500
Back to Methuselah is his world classic. As the origina…
от 3962
George Bernard Shaw (1856-1950) was an Irish playwright…
от 1638
George Bernard Shaw (1856-1950) won the Nobel Prize in …
от 1175
George Bernard Shaw (1856-1950) won the Nobel Prize in …
от 1400
George Bernard Shaw (1856-1950) won the Nobel Prize in …
от 1375
George Bernard Shaw was born in Dublin in 1856. Before …
от 2275
Эта книга будет изготовлена в соответствии с Вашим зака…
от 1213