Rupert Brooke & Wilfred Owen: Selected Poems
Rupert Brooke
ISBN:

0753816547

;
Издательство:

Phoenix House


Страниц:

99



Book Description Rupert Brooke (1887-1915) was educated at Rugby and King's College, Cambridge. His first book of verse, Poems, was published in 1911. When World War I broke out, he joined the Royal Naval Division and died on the way to Gallipoli in 1915. Wilfred Owen (1893-1918) began writing poetry as a teenager and became an English teacher in France. During World War I he fought on the Somme, was awarded the Military Cross and was killed just before the war ended.
Похожие книги:
1915. And a biographical note by Margaret Lavington. A …
от 475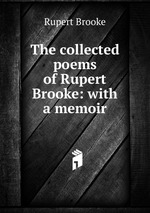 Воспроизведено в оригинальной авторской орфографии.
от 628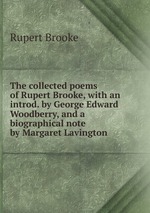 Воспроизведено в оригинальной авторской орфографии.
от 558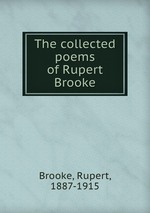 Brooke, Rupert, 1887-1915
Воспроизведено в оригинальной авторской орфографии изда
от 565
Rupert Chawner Brooke (middle name sometimes given as C…
от 1125
Rupert Chawner/Chaucer Brooke (1887-1915), was an Engli…
от 1137
Rupert Chawner/Chaucer Brooke (1887-1915), who also wro…
от 1000
Contents Include 1905-1908 Second Best Day that I have …
от 800
Many of the earliest books, particularly those dating b…
от 3662
Many of the earliest books, particularly those dating b…
от 3700
Эта книга будет изготовлена в соответствии с Вашим зака…
от 1425
Эта книга будет изготовлена в соответствии с Вашим зака…
от 1363