Everything's Eventual Movie Tie-In: 14 Dark Tales
Stephen King
ISBN:

1416549854

;
Оригинальное название: <b>#1</b> New York Times Bestseller!
Издательство:

Pocket


Страниц:

464



Features the tale "1408," now a Dimension Films motion picture , starring John Cusack and Samuel L. Jackson. Also inside is the blockbuster eBook "Riding the Bullet," the original audio story "In the Deathroom," plus eleven more boundary-pushing fiction masterworks that will keep you awake until daybreak.
Похожие книги:
A new collection of short fiction features "L.T.'s Theo
от 262
In this eerie, enchanting compilation, King takes reade…
Nothing is quite as it seems.Expect the unexpected in t…
от 563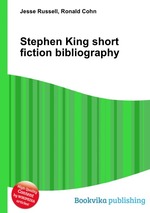 Jesse Russell,Ronald Cohn
This is a list of short fiction by Stephen King. This i…
от 997
King, Stephen; David, P.; Furth, R.
Dark Tower: The Gunslinger continues with one of the se…
от 1319