Swiss Watches and Snuff-boxes. 17th-20th Centuries
ISBN:
Серия: Artistic enamels from the hermitage collection
Издательство:

Славия


Страниц:

96



The State Hermitage possesses one of the most important collections of applied arts in the world. In this publication part of the Western European collection of enamel artworks "Swiss snuff-boxes and watches" is presented. Talented craftsmen and artists created marvelous works not only for utilitarian purposes but also to attract the collector's eye. This is the first time that the Hermitage's collection of Swiss enamel clocks and snuffboxes from the 17th to early 20th centuries is being presented in such a comprehensive fashion. The author-compiler of this catalogue is Larissa Anatolievna Yakovleva who has been studying Swiss enamel creations for many years. The results of her research have been published in numerous exhibition catalogues, including the monograph for the Hermitage exhibition held in 1994. This publication is the result of the collective efforts of the State Hermitage, Slavia publishers and the Tissot company. The world can now acquaint itself with...
Похожие книги:
В альбоме впервые представлена коллекция карманных часо
от 690
John Goldberger has been collecting and studying vintag…
от 4572
Have you ever gotten tripped up trying to say a silly s…
от 2150
Edward E. Lawler III, Chris Worley
In this groundbreaking book, organizational effectivene…
от 2806
Frederic P. Miller, Agnes F. Vandome, John McBrewster
High Quality Content by WIKIPEDIA articles The Hamilton…
от 1915
Roamer is a Swiss watch manufacturer. Roamer was founde…
от 1904
Industrie Horlogere was the second most important Swiss
от 1439
Zodiac Watches is a brand of watches manufactured by Fo
от 742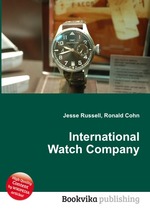 Jesse Russell,Ronald Cohn
International Watch Co, also known as IWC, is a high-en
от 1125