Enemy Aliens: Double Standards And Constitutional Freedoms In The War On Terrorism
David Cole
ISBN:

1565849388

;
Издательство:

New Press


Страниц:

316



About 5,000 foreign nationals have been detained by the United States since September 11 and denied basic constitutional rights in the name of "wartime" expediency. Cole, who has litigated civil liberties cases on behalf of resident aliens and writes for the Nation, argues that denying foreigners rights within our legal system usually ends with citizens being stripped of those same rights. Cole (No Equal Justice) documents how this process has already started and discusses provisions of the Patriot Act that he believes will allow for even further government encroachment on our freedom. He also provides detailed historical examples of the government's record of persecuting opposition voices in the name of security against a foreign menace. He argues for the moral and pragmatic importance of avoiding a double standard and according foreigners the same rights as citizens.
Похожие книги:
Emil Ludwig Fackenheim, Ph.D was a noted Jewish philoso…
от 1660
Frederic P. Miller, Agnes F. Vandome, John McBrewster
High Quality Content by WIKIPEDIA articles Alien Nation…
от 1183
Nationalizing the Russian Empire – The Campaign Against
от 4944
s subject, a pass or document to allow the enemy alien …
от 1650
The Ukrainian Canadian internment was part of the confi…
от 2080
Please note that the content of this book primarily con…
от 1566
Please note that the content of this book primarily con…
от 1365
Enemies & Allies is a novel by American science fiction…
от 1125
Halo: The Flood is a 2003 novel based on the 2001 Xbox …
от 1125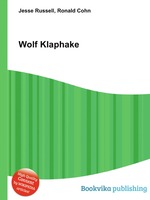 Wolf Klaphake (1900–1967) was a German-born scientist.
от 870