Milton Caniff's Steve Canyon: 1953 (Milton Caniff's Steve Canyon Series)
Milton Caniff
ISBN:

1933160578

;
Издательство:

Checker Book Publishing Group


Страниц:

170



Featuring the stories whic ran throughout the seventh year of the adventure strip: "Indian Cafe," "The Princess and the Doctor" and "The Halls."
Похожие книги:
A classic drawing textbook from an American comics pion…
от 2744
Two classic drawing textbooks from an American comics p…
от 2247
This collection of Milton Caniff's groundbreaking comic
от 2430
In the final volume of The Complete Terry and The Pirat…
от 4547
A great send-up of '50s youth culture and Elvis Presley…
от 2405
s School of Industrial Art in 1947, having attended for…
от 1665
Alex Kotzky (* 11. September 1923 in New York City; † 2…
от 1385
Please note that the content of this book primarily con…
от 1365
Jerry Robinson, Walt Kelly, Winsor McCay, Milton Caniff, Hal Foster, Others
From Jerry Robinson, legendary creator of the Joker, se…
от 1635
Clinton D. "Casey" Vincent (November 29, 1914 July 5, 1…
от 1125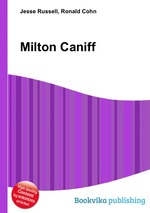 Jesse Russell,Ronald Cohn
Milton Arthur Paul Caniff (February 28, 1907 – April 3,
от 1125
Based on the popular comic strip "Terry and the Pirates
от 900
Milton Caniff's legendary comic strip finds a new home.
от 2005