English Together: Teacher`s Guide 2 Серия:
Webster D.

,

Worrall A.
ISBN:

0-582-02061-1

;

9780582020610

;
Серия: ENGT
Издательство:

Addison Wesley Longman, Inc


Страниц:

128



"English Together" is based on the belief that children learn best by working together, playing together and exploring language together. It gives lots of opportunities for children to co-operate to solve problems, express opinions, and to enjoy themselves by playing games, doing puzzles and singing. The course is divided into three stages, with an optional Starter Book for younger beginners or those not familiar with the Roman alphabet. Stage 2 of the course is set in Cliff Castle, where the children are staying with their mad inventor uncle. They learn about the wider world through the magic powers of their uncle's computer, as well as with "Factfiles" - special sections containing general knowledge and interesting information. For each stage of "English Together" there is a pupils' book, action book, teacher's guide and cassettes.The course is linked with "Cuckoo! Video". This teacher's guide provides lesson-by-lesson teaching notes, a reference chart for revision and new language in each unit, "Extra Games and Activities" pages, the tapescripts for all listening activities and the key for all the exercises.
Похожие книги:
Diana Webster, Anne Worrall
English Together 3: The Golden Globe. English Together
от 318
Diana Webster, Anne Worrall
Part of a three-level course based on the belief that c…
Diana Webster, Anne Worrall
The first stage of a three-stage English course for chi…
Diana Webster, Anne Worrall
This is the first stage of a three-stage English course…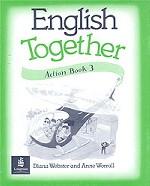 English Together is a three stage course for children (…
от 326