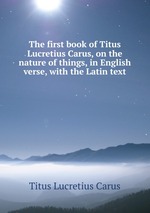 The first book of Titus Lucretius Carus, on the nature of things, in English verse, with the Latin text.
Carus Titus Lucretius
ISBN:

978-5-8795-5668-1

;
Издательство:

Книга по Требованию


Страниц:

146



Воспроизведено в оригинальной авторской орфографии.
Похожие книги:
In Book 1 he establishes the general principles of the …
Воспроизведено в оригинальной авторской орфографии изда
Воспроизведено в оригинальной авторской орфографии.
от 672