Rime of the Ancient Mariner (Ill. by Dore)
Coleridge
ISBN:

978-0-486-22305-6

;

0-486-22305-1

;
Серия: African art art of illustration
Издательство:

Dover


Страниц:

77



Dore's engravings for The Rime are considered by many to be his greatest work. The terrifying space of the open sea, the storms and whirlpools of an unknown ocean, the hot equatorial seas swarming with monsters, the ice of Antarctica, more -- are all rendered in a powerful manner. Full text and 38 plates.
Похожие книги:
Comprising the finest plates from the great illustrator…
от 763
Samuel Taylor Coleridge, poet, critic, and radical thin…
от 1226
Samuel Taylor Coleridge (1772-1834) was one of the most…
от 280
s poetic achievement was small in quantity, his metaphy…
Воспроизведено в оригинальной авторской орфографии.
от 623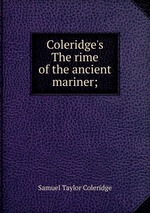 Воспроизведено в оригинальной авторской орфографии.
от 505
Great title poem plus Kubla Khan, Christabel, 20 other …
Great title poem plus Kubla Khan, Christabel, 20 other …
Воспроизведено в оригинальной авторской орфографии изда
от 505
Large print edition. Samuel Taylor Coleridge (1772-1834…
от 987
Between the years of 1797-1798 Samuel Taylor Coleridge …
от 812
Collected together in this collection are the most famo…
от 575