Jack C. Richards & Chuck Sandy
Passages: Student's Book 2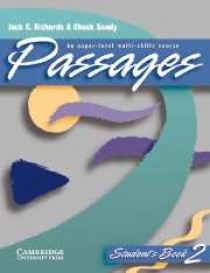 Книгу можно купить в интернет-магазинах:
Серия:
Passages
ISBN: 0-521-56471-9, 9780521564717
Издательство: Cambridge University Press
Год издания: 2001
Страниц: 128
Passages is a new high-intermediate to advanced course with a thematic syllabus that stimulates students to talk and write about a variety of thought-provoking topics. Activities develop fluency in listening, speaking, reading, and writing, while presentations of advanced grammar points and vocabulary help students communicate with greater accuracy. Level One takes learners from a high-intermediate to a low-advanced level. Level Two further extends the communicative abilities of students, bringing them to an advanced level. Passages provides an ideal follow-up for students who have completed a beginning to intermediate course. It is carefully coordinated to function as a sequel to New Interchange, one of the world's most successful English courses for adult and young adult learners of English. Key Features: - thematic units of high interest to adults and young adults; - complete writing syllabus beginning with paragraph development; - engaging...