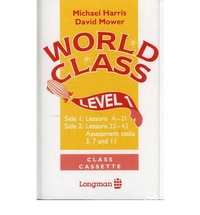 World Class: Level 1 (World Club)
Michael Harris

,

David Mower
ISBN:

978-0-582-21857-4

;

0582218578

;
Серия: World Class S.
Издательство:

Британия/Pearson лиц.



World Class 1 is intended for students studying English at the beginning of secondary level. It combines imaginative topics, games and activities with a systematic introduction to all the basic language areas. This cassette contains listening texts and pronunciation exercises from the student book.
Похожие книги: