Trends in the Distribution of Household Income Between 1979 and 2007 - A Congressional Report on Income Inequality in the U.S.
U.S. Congressional Budget Office
ISBN:

9781616406653

;
Издательство:

Книга по Требованию


Страниц:

68



In October 2011, the United States Congressional Budget Office released a report evaluating the trends in household income from 1979 to 2007. Based on extensive data from the Internal Revenue Service and Census Bureau, it was written in response to the economic crisis and rising concerns about unemployment, tax inequality, and large income gaps between the rich and poor. The report found that there is a large contrast in the after-tax income of the lowest and highest earners in the U.S.; the after-tax income of the most prosperous fifth of the population exceeded the total after-tax income of the other four-fifths. This report is valuable to anyone interested in economic trends over time and the current world economic crisis. The U.S. CONGRESSIONAL BUDGET OFFICE is a federal nonpartisan government agency that evaluates the federal budget in preparation for its renewal each year, providing Congress with the information and estimates they need to do so. In addition, they provide...
Похожие книги:
Congressional Budget Office, Congress of the United States
A scientific consensus is emerging that rising atmosphe…
от 1431
Although the Chinese economy is growing at a very high …
от 18235
This book investigates US-UK monetary relations, 1791 t
от 2866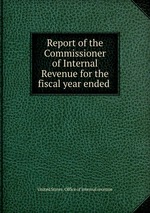 United States. Office of internal revenue
United States Congress Congressional Budget Office
This Congressional Budget Office (CBO) studya??prepared…
от 1298
Although the Chinese economy is growing at a very high …
от 5277