Stuart Little (full color)
White

,

E.B.
ISBN:

9780064410922

;
Издательство:

HarperCollins Publishers


Страниц:

144


Формат: Мягкая обложка

How terribly surprised the Little family must have been when their second child turned out to be a small mouse. At times, doesn't everyone feel like the sole mouse in a family--and a world--of extremely tall people? A special color edition on high quality paper.
Похожие книги:
Книга о забавных приключениях самого маленького жителя
от 30
This three-volume box set contains paperback editions o
от 1328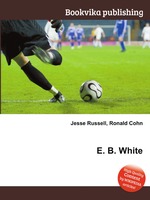 Jesse Russell,Ronald Cohn
Elwyn Brooks White (July 11, 1899 – October 1, 1985), u…
от 1125
M. B. Manwell was the author of: Nobly Planned (1880), …
от 1087
Charlotte's Web: A Puffin Book by E B White. A Puffin B…
от 879
Stuart Little is no ordinary mouse. Though he's shy and…
от 749
A paperback edition of E.B. White's classic novel about…
от 300