Daniel Wallace
The New Essential Chronology to Star Wars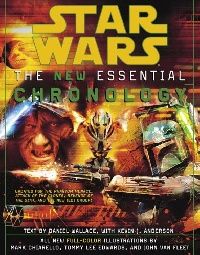 Книгу можно купить в интернет-магазинах:
ISBN: 0345449010, 9780345449016
Издательство: Del Rey
Год издания: 2005
Страниц: 256
At last, it's the ultimate history of the spectacular Star Wars saga, lavishly illustrated and in full color for the first time. With the completion of Episodes I, II, and III , the epic story that's captivated millions can now be told in its entirety, from the time of the primordial Knights of the Old Republic and the Clone Wars to the birth of the Empire, from the destruction of the Death Star to the adventures of the New Jedi Order. Beautifullyillustrated by Mark Chiarello, Tommy Lee Edwards, and John Van Fleet, Star Wars: The New Essential Chronology offers the comprehensive and official chronicle of that extraordinary galaxy so far, far away. Herein you'll find • the most exciting and climactic events from all epochs of Star Wars–those explosive turning points in the shaping of the galaxy • a gripping account of the controversial Clone Wars–the treachery that fueled them and the terrifying...
Посмотрите другие книги этой тематики: