The Musical Madhouse : English Translation of Berlioz's Les Grotesques de la musique (Eastman Studies in Music)
Hector Berlioz
ISBN:

1580461824

;
Издательство:

University of Rochester Press


Страниц:

264



Book DescriptionHector Berlioz's Les Grotesques de la musique is the only one of his books that has never been translated into English in its entirety. It is by far the funniest of all his works, and consists of a number of short anecdotes, witticisms, open letters, and comments on the absurdities of concert life. Alastair Bruce's fluid translation brings to life this important composer and bon vivant. He does a wonderful job of conveying all the puns, jokes, and invective of Berlioz's prose as well as the nuances of his stories. He even imitates a Tahitian accent in the translation, as Berlioz does in the original. The notes will give the reader insight into the innuendos and in-jokes that fill the pages. This translation will take its place among othertranslations of Berlioz's prose writings, bringing to the reader more lively examples of a still misunderstood composer caught up in the musical life of mid-nineteenth century Paris. Alastair Bruce is a London-based management...
Похожие книги:
From the romantic agonies of Hector Berlioz to the lone…
от 2510
Many of the earliest books, particularly those dating b…
от 3545
) Заказ обрабатывается в индивидуальном порядке: каждо
от 3364
Lambert M. Surhone, Mariam T. Tennoe, Susan F. Henssonow
High Quality Content by WIKIPEDIA articles The French c…
от 1589
A choral symphony is a musical composition for orchestr…
от 997
Program music or programme music is a type of art music…
от 997
Воспроизведено в оригинальной авторской орфографии.
от 571
Johann Bernhard Logier, Hector Berlioz
This is a reproduction of a book published before 1923.
от 1856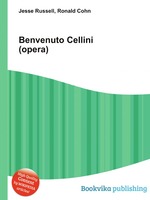 Jesse Russell,Ronald Cohn
Benvenuto Cellini is an opera in two acts with music by…
от 1125
Репринтное нотное издание Berlioz, Hector "Grande messe…
от 700
Репринтное нотное издание Berlioz, Hector "Marche funeb…
от 150
The French composer Hector Berlioz made four attempts a…
от 1253