Mary Stuart
Friedrich Schiller
ISBN:

0-486-41594-5

;
Серия: Dover Thrift Editions
Издательство:

Dover Publications


Страниц:

128



That is the heart of the story that captivated Friedrich Schiller, one of Germany's greatest playwrights, and inspired him to write this powerful psychological drama. First performed in 1800, the five-act play in blank verse takes place in the days before Mary's execution for treason, and focuses on the two royal antagonists' personal and political conflicts. Schiller increases the tension and power of the play by setting up the two women as spiritual opposites - Mary a warm, loving idealist with an intuitive heart, Elizabeth a power-hungry realist with an intriguing, calculating intellect. Widely regarded as one of Schiller's finest plays, the work is impressive for its array of finely contrasted personalities, its blending of complex fact with creative inspiration, and its melding of the best elements of three dramatic traditions - ancient Greek, Shakespearean, and French classical - in order to create a tragedy that Schiller hoped would hold its own with the, best works of...
Книга отсутствует в продаже
Похожие книги:
s verdant carpet out before my eyes, Remember I am wret
Воспроизведено в оригинальной авторской орфографии изда
Воспроизведено в оригинальной авторской орфографии.
Воспроизведено в оригинальной авторской орфографии.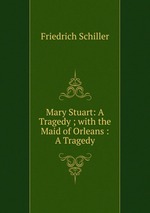 Воспроизведено в оригинальной авторской орфографии.
от 736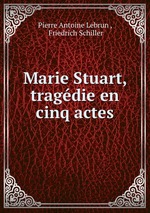 Pierre Antoine Lebrun , Friedrich Schiller
Воспроизведено в оригинальной авторской орфографии изда
от 544
Воспроизведено в оригинальной авторской орфографии изда
Воспроизведено в оригинальной авторской орфографии изда
Johann Christoph Friedrich von Schiller (1759-1805) was…