Major Barbara
George Bernard Shaw
ISBN:

0-486-42126-0

;

978-0-486-42126-1

;
Серия: Dover Thrift Editions
Издательство:

Dover Publications, Inc.


Страниц:

124



Fabian socialist and ardent proselytizer, George Bernard Shaw viewed his role as a playwright as far more than that of an entertainer. He frequently lectured his audiences on moral, social, historic, economic, and even biological issues-a potentially dry theatrical experience enlivened by Shaw`s genius for creating vital characters and scintillating dialogue. `Major Barbara` is a sparkling example of its author`s unique gift for presenting social theories in an engaging format. Andrew Undershaft, a wealthy armaments manufacturer, and his daughter Barbara, a major in the Salvation Army, are at odds with one another. When the Army accepts donations from Undershaft and a whiskey distiller, Barbara considers this money tainted and resigns her position in disgust. While never fully agreeing with her father, she comes to accept his theory that poverty, not sin, breeds crime, and that the only way people can help each other is through accumulating wealth and power. A...
Книга отсутствует в продаже
Похожие книги:
George Bernard Shaw was the greatest British dramatist …
от 411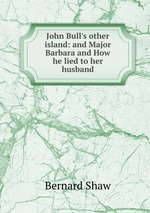 Воспроизведено в оригинальной авторской орфографии.
от 683
"Major Barbara" is the story of its title character who…
George Bernard Shaw is one of the most influential play…
The Modern Drama, as all modern literature, mirrors the…
George Bernard Shaw's only play set in America, The Dev…
Middle-aged Mrs. Warren is a madam, proprietress of a s…