On the Art of Drawing
Fawcett
ISBN:

978-0-486-46526-5

;
Серия: Art Painting
Издательство:

Dover


Страниц:

144



With this helpful and informative guide, a leading American illustrator offers insights into how serious beginners can become sketch masters. It combines a focus on the nature and importance of technique with practical suggestions for developing drawing skills with a variety of tools, including felt pen, pencil, crayon, brush and ink, charcoal, casein, tempera, and wash. Norman Rockwell praised this book as "a real contribution not only to illustration, but to art." Rockwell and author Robert Fawcett were founding faculty members of the Famous Artists School, a correspondence course that has coached legions of professionals and amateurs. Known as the "Illustrator's Illustrator," Fawcett stresses design and composition in his step-by-step demonstrations, which feature 100 illustrations. His realistic depictions of landscapes and human figures convey solid fundamentals of drawing that every artist, illustrator, student, and hobbyist needs to know.
Похожие книги:
Principles of Assessment for Occupational Therapists an…
от 5138
The manner in which polymers are linked, under certain …
от 11943
Lambert M. Surhone, Mariam T. Tennoe, Susan F. Henssonow
High Quality Content by WIKIPEDIA articles Robert Fawce…
от 1935
Воспроизведено в оригинальной авторской орфографии.
от 623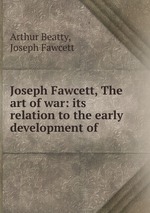 Arthur Beatty, Joseph Fawcett
Who is the Racketeer? And what does he have to do with …
от 398
In the history of the United States, only four active f…
от 519
"Exhilarating... surprising... ingenious."—Janet Maslin…