The Luck of Roaring Camp and Other Short Stories
Bret Harte
ISBN:

0-486-27271-0

;
Серия: Dover Thrift Editions
Издательство:

Dover Publications


Страниц:

96



"A Protegee of Jack Hamlin's" and "An Ingenue of the Sierras," written later in Harte's life, boast full casts of lively and colorful characters and settings ranging from a stagecoach to a Sacramento River steamer. They display Bret Harte's enthralling storytelling style at full strength-crisply observant, rich in ironic humor, an engaging mix of sentiment and wit-a style that deeply influenced the American short story and set a future course for writers of "Western" fiction from Owen Wister to Zane Grey. Издание на английском языке.
Книга отсутствует в продаже
Похожие книги:
Harte, Bret, 1836-1902,Harte, Bret, 1836-1902. The luck of Roaring Camp, and other sketches,Harte, Bret, 1836-1902. Bohemian papers
Воспроизведено в оригинальной авторской орфографии изда
Воспроизведено в оригинальной авторской орфографии.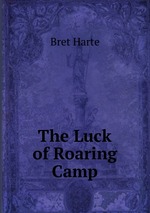 Francis Bret Harte (1836-1902) was a prolific American …
Francis Bret Harte (1836-1902) was an American author a…
Francis Bret Harte (1836-1902) was an American author a…
Bret Harte (1836-1902) was born in New York but moved t…
The Works Of Bret Harte; The Luck Of Roaring Camp Susy.…
An unabridged edition to include The Luck of Roaring Ca
Francis Bret Harte (1837-1902) was an American author a
Bret Harte (1836-1902) was a 19th century writer most f