The Success Traps: The 7 Fatal Traps on the Journey to Success
Timothy McMahon
ISBN:

0595190359

;
Издательство:

Authors Choice Press



"One of the most powerful guides to personal and business Success ever written ... absolutely real world, to-the-point, insightful and humorous. Simply not to be missed!" Tim McMahon is a highly sought after international business speaker and motivator who really knows something about personal and business Success -- not the get-rich-quick kind but the hard-earned success that comes from working every day and keeping focused on getting the very best from life. The Success Traps is about the 7 Fatal Traps that are so easy to fall into and that keep us from achieving everything we want. It's a wonderful blend of stories, anecdotes, and powerful ideas combined with Tim's 'success photography' from around the world that makes The Success Traps abook to read -- and re-read -- and read again! Recent Reviews: 'I couldn't stop reading until I got to the end! The blend of personal anecdotes and wonderful photography is terrific. Tim captures the essence of a...
Похожие книги:
The complete guide to dealing with mold in your home--t…
от 2775
Ken McMahon, Robin Nichols
Achieve professional results with this complete and eas…
от 3353
Practical techniques for improving performance and achi…
от 1732
Something Corporate is an American rock band from Orang…
от 1441
The Butcher's career in professional wrestling, as both…
от 2425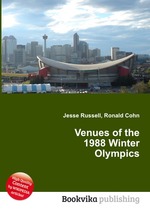 Jesse Russell,Ronald Cohn
For the 1988 Winter Olympics in Calgary, Alberta, Canad…
от 1125
Linda Marie McMahon (nee Edwards; born October 4, 1948)…
от 1253
Praise for Murder in the 11th House... "Interesting cha…
от 2087
McGarry F., McMahon P., Geyte E., Webb R.
Get Ready for IELTS is the perfect course for students …
от 1420