A History Of The Precious Metals From The Earliest Times To The Present
Alex Del Mar
ISBN:

0766190544

;
Издательство:

Kessinger Publishing



Book Description1902. Alexander Del Mar, political economist, historian and author, wrote several books on money in the late 19th century including this comprehensive volume on the history of precious metals.
Похожие книги:
The Multi–Protagonist Film explores the origins and his…
от 7460
Frederic P. Miller, Agnes F. Vandome, John McBrewster
The first European navigator to visit the beaches and c…
от 1448
1885. Contents: Supply of Materials Suitable for Money,…
Lambert M. Surhone, Mariam T. Tennoe, Susan F. Henssonow
High Quality Content by WIKIPEDIA articles Patricia Dem…
от 1589
Воспроизведено в оригинальной авторской орфографии изда
от 638
Воспроизведено в оригинальной авторской орфографии изда
от 685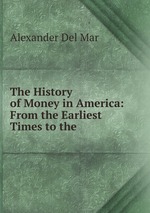 Воспроизведено в оригинальной авторской орфографии.
от 513