Asset Protection and Security Management Handbook
ISBN:

0849316030

;
Издательство:

Auerbach Publications



The Asset Protection and Security Management Handbook is a must for all professionals involved in the protection of assets. For those new to the security profession, the text covers the fundamental aspects of security and security management providing a firm foundation for advanced development. For the experienced security practitioner, it provides the tools necessary for developing effective solutions and responses to the growing number of challenges encountered by today's security professionals. Based on the ASIS asset protection course, the text provides information vital to security planning and operational requirements. It addresses the most comonly recognized issues in the field and explores the future of asset protection management. The authors examine the latest in crime detection, prevention, and interrogation techniques. The Asset Protection and Security Management Handbook will not only help you to explore effective security training and educational programs for your...
Похожие книги:
Book DescriptionWealth accumulation, tax efficiency, an…
от 5499
With juries giving out million-dollar awards for such t…
от 4076
Jay Adkisson, Chris Riser
Strategies that are effectiveand legal for putting one'…
от 3675
For long-term benefits -- safety, privacy, tax-efficien…
от 624
Nicholas Misenti, John L. Duoba, Nicholas C. Misenti
The latest techniques for preserving family wealth and …
от 4196
Trump University Asset Protection 101
от 1841
A Guide to Asset Protection
от 6324
Kropatkin Management Principles For Asset ?protect Ion?
от 5225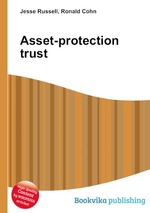 Jesse Russell,Ronald Cohn
An asset-protection trust is a term which covers a wide…
от 1125
Asset protection (sometimes also referred to as debtor-…
от 1125
This book is a pragmatic and creative approach to legal…
от 1650
This book is a pragmatic and creative approach to legal…
от 1788