ABC of Women Workers' Rights and Gender Equality (Second Edition)
ISBN:

9221108449

;
Издательство:

International Labour Office



This concise and easy to read guidebook assists the general public in understanding the legal frameworks and socioeconomic developments surrounding gender equality and women workers' rights in the world of work. Completely updated and revised, this second edition incorporates important new information about the latest developments on gender issues such as child laborers, export processing zones, gender mainstreaming, and the glass ceiling. Each entry in the guide provides a clear, succinct definition anddirects the reader to relevant laws, ILO conventions, and other topics for further research.
Похожие книги:
Book DescriptionA daily devotion for women, designed to…
от 2103
Book Description From the creator of the inimitable, za…
от 826
Book DescriptionA psychologist and renowned workshop le…
от 2868
Few women in America are as adored - and accessible - a…
от 1160
Jae K. Shim Ph.D., Joel G. Siegel Ph.D.
Books in Barron?s Business Library Series speak to men …
от 853
Eva Jacqueline Longoria Parker (born Eva Jacqueline Lon…
от 1915
Eastwick is an American television drama series created…
от 1915
Lambert M. Surhone, Mariam T. Tennoe, Susan F. Henssonow
High Quality Content by WIKIPEDIA articles Womens Murde…
от 1665
Lambert M. Surhone, Mariam T. Tennoe, Susan F. Henssonow
High Quality Content by WIKIPEDIA articles The Womens I…
от 1453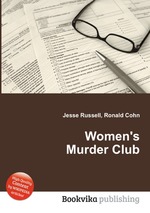 Jesse Russell,Ronald Cohn
Women's Murder Club is an American police procedural an…
от 997
The Women's International Bowling Congress (WIBC) was a
от 1125
The 2001 ABC Championship for Women is the qualifying t
от 1125