Tourism : Principles, Practices, Philosophies
Charles R. Goeldner
ISBN:

0471450383

;

9780471450382

;
Издательство:

Wiley


Страниц:

688



Book DescriptionThe updated and expanded #1 introduction to tourism principles and practices retains its classic approach in this new tenth edition Virtually every country has taken steps to increase its number of visitors in recent years, and with each new edition, Tourism has remained the must-have resource dedicated to providing an exciting, comprehensive introduction to the world's most rapidly growing industry. This Tenth Edition explores new trends in travel and tourism, while continuing the book's long-standing tradition of taking a global look into the economic, political, and social forces that drive and shape tourism. Written by two internationally respected experts, Tourism, Tenth Edition includes: Extensive treatment of the changing world of travel distribution A new look at the future of travel New coverage of crisis management Updated lists of Internet sites for further research ...
Похожие книги: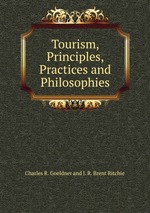 Charles R. Goeldner and J. R. Brent Ritchie
Воспроизведено в оригинальной авторской орфографии.
от 831